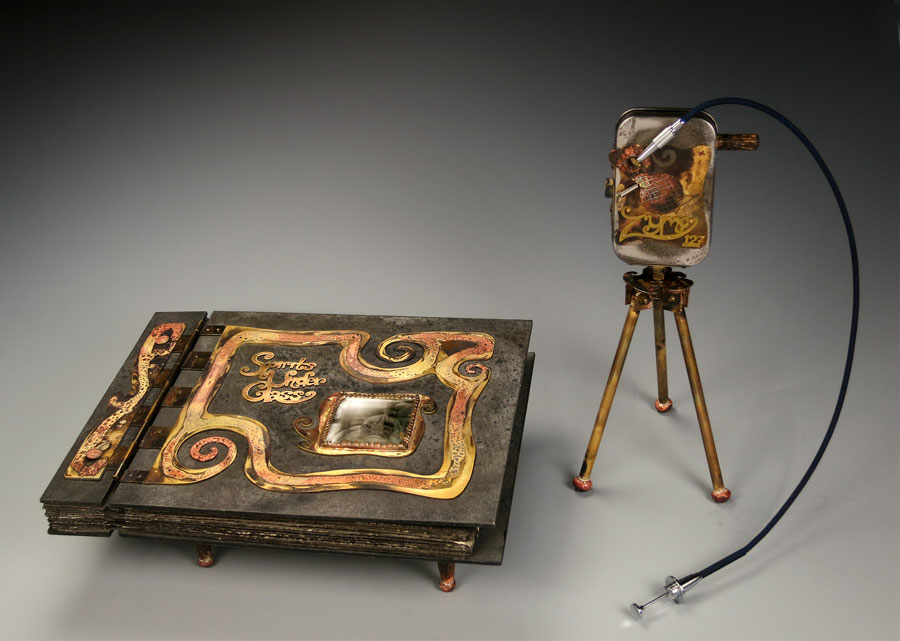 Artist's book that holds the photos taken by the handmade (by me) pinhole camera on the right. Book: Spirits Under Glass ©2012, 10.75 x 8.25 x 3.5 inches. Davey board, Arches cover, acrylics, brass with heat patinas, beveled glass, photos printed with archival inks, varnished. Bound with brass screw posts that have decorative brass heads soldered on. Camera: Zymo 127 pinhole camera. ©2011 About 12 inches high on tripod. Altoids tin, brass, found spring, wooden dowel, brass nuts, fabricated, 127 film format.
This is my Zymo 127 project, finished at last. I have been working on it for over two years. Now that it's finished I do like it, a good sign. The whole project consists of a pinhole camera I used to take photos in my husband's
Zymoglyphic Museum
, 24 photos and the one-of-a-kind artist's book I made to house the photos.
The idea for the project started in July 2006, during a family vacation we called "Art Camp," when my son suggested we make Altoids pinhole cameras. I loved the distortions and hazy atmosphere of the photos we took that week.
Above: matchbox pinhole photo, August 2006. A month later, when I was playing around with matchbox pinhole photography, I took some photos in one of my husband's dioramas,
The Quiet Parlor of the Fishes
. I thought since the matchbox pinhole cameras were so small, they could be lowered into the dioramas for a bugs-eye view. I liked the results so much, I knew I wanted to do this project. I did make several other pinhole cameras first, to test out my ideas and see how I liked working with them. They can be seen
here
.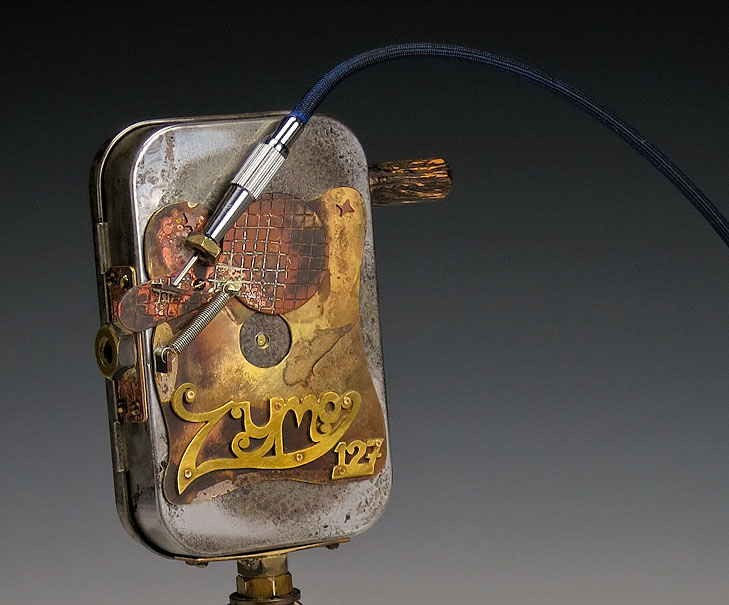 Above: close-up of
Zymo 127
pinhole camera. In July of 2010, I decided to make a pinhole film camera, the Zymo 127, which was dedicated to taking photos in the Zymoglyphic Museum. The name comes from the 127 film I use in the camera. Through much of the fall and early 2011 I took around 300 photos.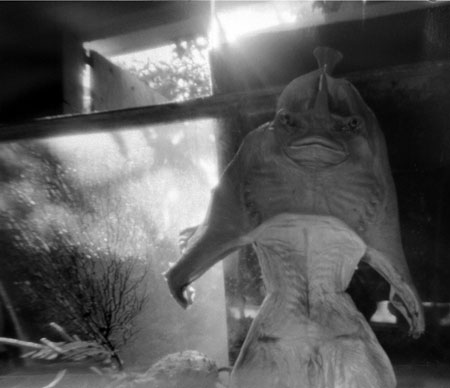 A photo of the Zymoglyphic Mermaid, ©2011. Taken with the Zymo 127 pinhole camera. See the other photos from the Zymo 127 pinhole camera
here
. Pinhole photography lends a mysterious air to the photos, which is perfect for the museum's dark corners that hold dusty surprises.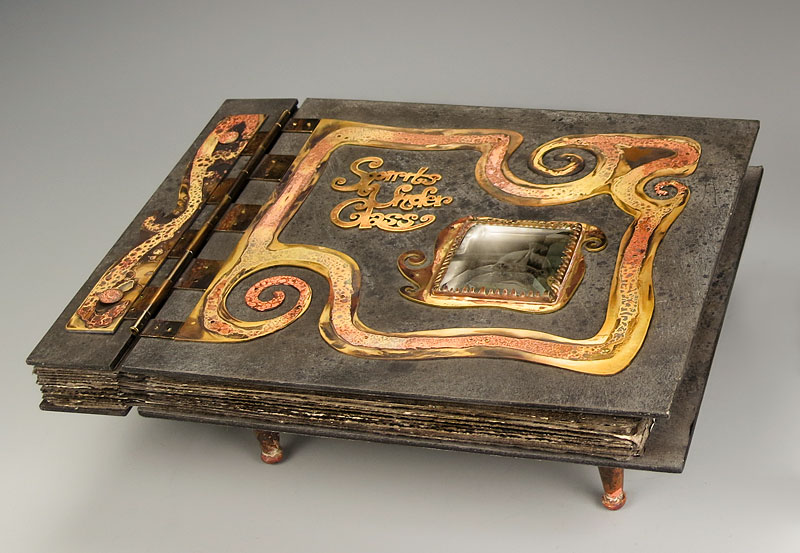 Spirits Under Glass ©2012, 10.75 x 8.25 x 3.5 inches. Davey board, Arches cover, acrylics, brass with heat patinas, beveled glass, photos printed with archival inks, varnished.
After I had photos I was happy with, I wanted to make a one-of-a-kind artist's book that was special enough to house these photos. So I started on
Spirits Under Glass
. The title is taken from a
blog post
Jim wrote about the ethnographic collections at the de Young Museum. He said "Encased in the sleekly modern architecture of the museum we see organic figurines, made of wood, clay, stone, or feathers, once living spiritual objects, extracted from dying cultures, forever frozen in action in their vitrines."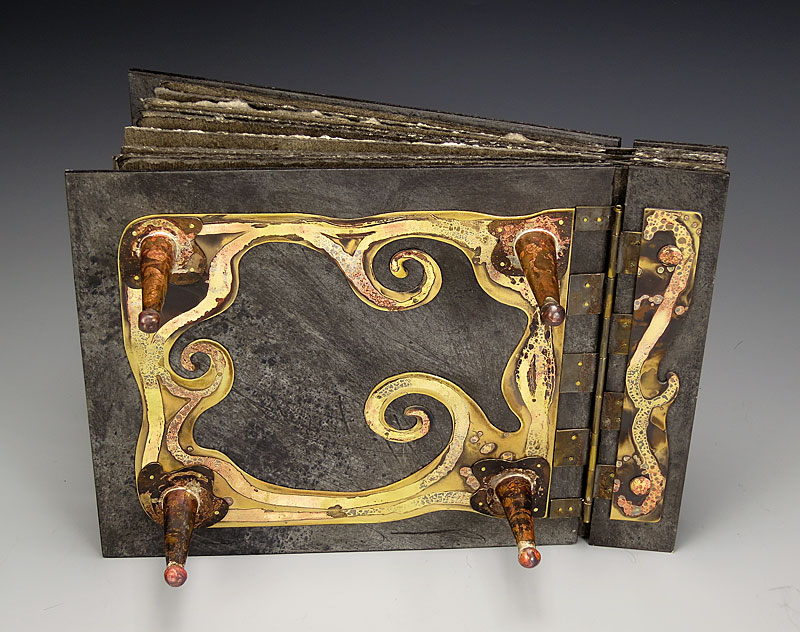 The legs help the book to work, it's heavy and the spine doesn't pivot easily as you turn the pages. They also raise the book up to the viewer, an effect I like a lot. And I just love the look of them, legs on a book are so funny.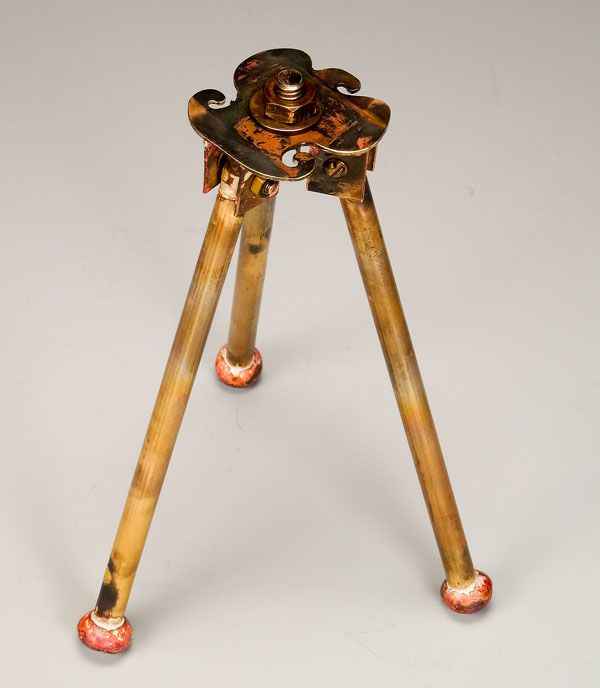 Tripod for Zymo 127 pinhole camera, fabricated, brass, handmade brass beads, heat patina.
After completing Spirits Under Glass, I realized I needed a tripod to display the camera. The legs fold down when not in use, there are no other adjustments. You can see the parts before I brazed them together
here
. The nut is a standard tripod mount size.
Now that this project is done, I'm ready for a change from big projects and plan to focus on a few books made with leftover pieces of metal that have been in my scrap bins, some for many years.
Here
is one that I made last fall, taking a break from the stresses of Spirits Under Glass.